Paul Wells has a great post about Beethoven symphony recordings, and asks for my input. I don't know how much I can add, because all his choices are excellent (I agree in particular that the David Zinman set is a great bargain), but here are some other recordings I've liked.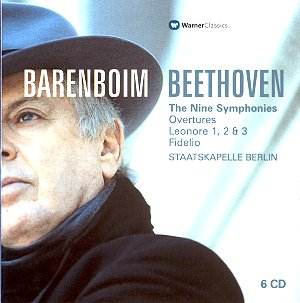 One complete cycle I got recently and have been enjoying is the 2000 cycle recorded by Daniel Barenboim conducting the Berlin Staastkapelle (the orchestra of the State Opera in what was formerly East Berlin). This cycle is available very cheap in Europe, and also turns up in used CD stores with some frequency; that's where I got mine. Conducting an old and respected German orchestra, Barenboim goes for what is basically an old-school Beethoven interpretation: like his idol Wilhelm Furtwängler, he engages in extreme contrasts of tempo (ranging from very fast to very slow within the same movement), sudden pauses and shifts, and an emphasis on Beethoven as a Romantic, mystical composer. What makes it work, for the most part, is the tremendously good execution, from the orchestra and from the sound engineers — some have called this the best-sounding Beethoven cycle ever recorded, and it's certainly hard to resist the sound of the rich strings and thumping drums. And Barenboim takes most of the repeats (which, with the slowish tempos, makes some of the symphonies extremely long) and uses divided violins, a big advantage in Beethoven. If you can find it at a cheap price and you're looking for some old-fashioned Teutonic Beethoven, you'll enjoy this one very much.
What if you want an affordable Beethoven cycle that can be seen as well as heard? Try the three DVDs from EuroArts with the SWR Symphony Orchestra conducted by Michael Gielen. Gielen is an avant-garde composer who's also a busy conductor, like a nicer version of Pierre Boulez. He was music director of the Cincinnati Symphony Orchestra for several years, where he demonstrated once and for all that Cincinnati is not a great place to do avant-garde music (but then, WKRP already proved that). For the last couple of decades he has been associated with the SWR Symphony in Baden-Baden, a venerable state-funded radio orchestra that specializes in modern music but also plays and records a lot of standard repertoire. Gielen's approach to Beethoven is quick, sleek and nervous — emphasizing Beethoven as the experimental composer who paved the way for composers to write music the audience wouldn't actually like. His choices of tempo are usually similar to Beethoven's metronome markings (which were mostly quite fast) and he's always on the lookout to bring out the weirder, more disturbing hidden voices in Beethoven's orchestration. If you want performances that emphasize Beethoven as the eternally contemporary composer, this is another very well-executed cycle. Here's an excerpt from one of the performances, though in mono sound (the DVDs are stereo, of course).
http://www.youtube.com/watch?v=FaMAHZNZvwQ
The best period-instrument Beethoven recording I've heard is a recording of Symphony # 3 ("Eroica") by conductor Jordi Savall. Savall is one of the world's most famous specialists in early music (he did the soundtrack for the movie Tous Les Matins Du Monde), but he's not one of those baroque guys who loses his nerve when dealing with 19th century music; this is raw, powerful, brutal Beethoven, extremely well-played by the Spanish period-instrument orchestra (inexplicably given a French name) that more than any other recording gives the feeling of how shocking this music must have sounded at the time. The CD version is out of print, but a number of torrent sites have the recording for download.
The just-completed cycle by Osmo Vänskä and the Minnesota Symphony (their final disc in the series, of 2 and 7, was just released) has gotten a lot of critical praise, and certainly deserves a lot of it; sonically, it's one of the best, thanks to BIS's surround sound and Vanska's ability to create great big washes of wonderful orchestral sound — this is plush, beautiful Beethoven. It may be a little too comfortable in spots, but at its best, especially in the Ninth, it makes a very good case for the inherent likability of Beethoven's music. It doesn't always have to sound jarring and disturbing, after all.
Final note: The subject heading is a quote from (of course) Schroeder from Peanuts.