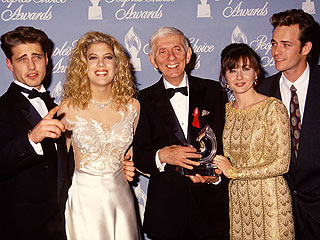 …When the only way they can get any buzz is by luring back Tori Spelling. If the new characters had managed to establish themselves as anything other than watered-down West Coast versions of Gossip Girl characters, people would be talking about them, and stunt casting would just be an additional ratings-booster for sweeps time. But except for the tabloid rumours about Shenae Grimes' excessive skinniness (I guess Degrassi has a better cafeteria than 90210), nobody really seems to know who these new people are. 90210's ratings aren't bad by CW standards, and I would not be surprised to see it come back for another season, if only because this is the CW and they haven't got anything else. But creatively, they still have the same problem they did at the beginning — the old characters overshadow the new ones — except that there's less of an excuse for this in the middle of the run. Maybe, as I've suggested earlier, they tried too hard to be a multi-character, multi-story soap opera right from the beginning. The original show started smaller, allowing the characters to define their traits and relationships; then it became completely nuts, but the nutty, trashy stuff wouldn't have worked as well if we didn't know who these people were.
The CW also looks bad by comparison with another network, ABC Family, which is doing teen soaps with more sharply-defined characters. The Secret Life of The American Teenager beats Gossip Girl in the ratings, has previously beaten 90210, and probably deserves to: like everything created by Brenda Hampton, Secret Life is a little preachy and simplistic, but it's never hard to figure out the basic traits of each character and what they want in life. A viewer of Secret Life or Greek can pick out the character they identify with the most and root for them, an important part of the experience of watching a teen show (on the original 90210, your experience would be different depending on whether you identified most with Brenda, Kelly, Ohhndrea or — I guess — Donna). Too many of the characters on the CW teen shows are easy to confuse with one another, as they do similar things and get lost in all the millions of interlocking plots.
Speaking of Tori Spelling, I always thought it was interesting that on Darren Star's 90210 à clef series, Grosse Pointe, the Tori Spelling clone was one of the sweetest, nicest characters in the cast. (Aaron Spelling's complaints forced the network to cut out some of the Tori-specific references — in the original pilot, the character was supposed to have gotten the job because her relative was the producer — but I don't see what he was complaining about; Star portrayed Tori more positively than he did almost anybody else.) I get the impression that she wasn't bad to work with, at least early on; and actually, I liked her better than several of the other cast members/characters in the first season of 90210.