This article first appeared on MoneySense.ca
Oakville, Ont. is home to tony boarding school Appleby College, the famous Glen Abbey Golf Club and lakefront mega-mansions, including one listed for $65 million in 2016. Its average household income of $162,000 is the 10th highest in the country and the value of the average primary residence is $1.2 million, the 13th most expensive in Canada.
Many would look at those facts and conclude Oakville sounds like a great place to live—for rich people. But mayor Rob Burton says those numbers don't tell the whole story.
"There's no denying it's an affluent community, but it's a generous community," Burton says. "We've become a very attractive place for people of diverse backgrounds."
---
Listen to MoneySense editor Claire Brownell talk on The Big Story Podcast about what makes Oakville a great place to live (and not just for the wealthy).
Learn more at The Big Story Podcast.
---
The results of the 2018 Canada's Best Places to Live ranking confirm Burton's hypothesis. Our data-driven analysis pegs Oakville as not only the best place to live overall, but the best place for New Canadians, the third best place to retire and the fifth best place to raise a family. It's certainly not the cheapest city in the country, but it has attracted a growing and increasingly diverse population because of its many strong points.
Oakville scored high in a broad range of the areas examined by the Best Places to Live ranking, placing in the top 25 per cent of all cities in six out of 10 categories. Oakville residents enjoy access to Toronto's strong job market while maintaining the benefits of a smaller suburb.
People from all walks of life have taken notice. Over the past 10 years, the percentage of visible minorities in Oakville has increased from 18 per cent to 31 per cent, according to the census. Burton says about 45 per cent of the Halton region's low income population lives in Oakville. And not every house is a $65 million lakefront mega-mansion, with families priced out of Toronto flocking to new, relatively affordable townhouses and other high-density developments.
Burton says the key to Oakville's success is maintaining a small-town sense of community, even as the city's population breaks 200,000. In fact, the municipality's official name stubbornly remains "the Town of Oakville," something Burton doesn't see any reason to change.
"Oakville is a city that calls itself a town and acts like a village," he says. "Oakville as a community is determined to maintain that town vibe."
How MoneySense picks the best place to live in Canada
There are lots of intangible qualities that make a city a great place to live that can't be measured. But we believe there are plenty of important characteristics that can be captured by hard data. A liveable city should be prosperous, but affordable. Safe, yet easy to get around. And it should have the type of weather that draws you outdoors.
We gathered data on 415 cities across the country and ranked how they measure up in 10 categories: Wealth and economy, affordability, population growth, taxes, commute, crime, weather, access to health care, amenities and culture. Environics Analytics was an invaluable partner, providing the majority of the data. For a full list of data sources and more information about how the ranking works, please see the methodology page.
This year, we made the health category more robust by ranking median wait times for various procedures. You can find the cities that ranked best in access to healthcare here.
Trends and runners up
The top 50 best places to live span across the country, from B.C. to Quebec. Ontario cities account for half of the top 50.
The only region without a city in the top 50 is Atlantic Canada, which tends to suffer in the wealth and economy category because of high unemployment rates. Halifax was the top-ranked east coast city, placing 226th.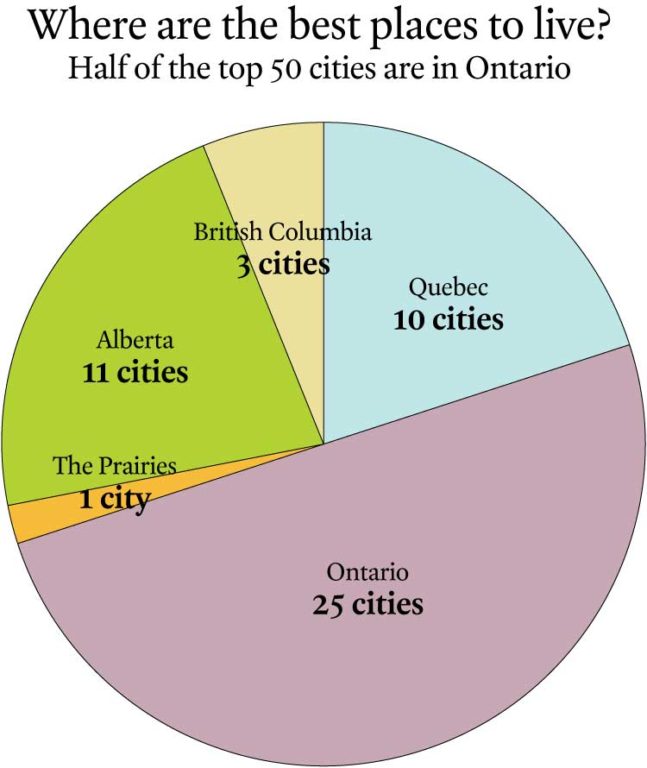 This year, Oakville knocked Ottawa, the two-year reigning champion of Best Places to Live, off its throne. Canada's capital has historically done well because of its stable, government-fueled economy and affordable cost of living.
Russell, Ont.—a small town outside Ottawa—came in third overall. If you're looking for a place to live with real estate that won't break the bank, Russell is also no. 1 in our new sub-ranking of the best places to live with housing prices under $500,000. Russell is among the top 10 most affordable cities in the country and is also among the top 25 per cent of cities with the lowest crime.
Saint-Bruno-de-Montarville, a Quebec town east of Montreal, finished fourth. It's also the no. 1 city to raise a family for the second year in a row. The town boasts low crime, a strong economy and great access to amenities.
In a sign of Alberta's improving economy, Lacombe, a town north of Red Deer, took the fifth spot. Lacombe's year-over-year unemployment rate dropped the fifth fastest of any city in 2018, with high average incomes and a fast-growing population contributing to its strong showing.
Of course, you may have a different opinion of what makes a city a great place to live. Head to our build-your-own ranking tool to adjust our category weightings to your taste and find the city that's perfect for you.