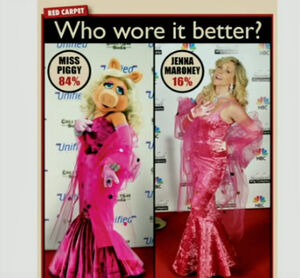 Brian Lynch's comparison of 30 Rock and The Muppet Show is very apropos (especially considering the Muppet appearance on a recent 30 Rock episode).
EXHIBIT B: LIZ LEMON VS. KERMIT THE FROG

Both are the most normal people on their respective shows. Both are unlucky at love. Both are neurotic worrywarts and type-a personalities who slow burn into a crazy breakdown once per episode. AND both have some kind of flirtation with the guest stars that ultimately goes nowhere. There is absolutely no difference between Liz Lemon and Kermit the Frog save for genitalia (Liz is a lady, Kermit has none).
But how sad is it that I barely remembered the existence of Dr. Bunsen Honeydew, and he still had more to do on The Muppet Show than his human equivalent, Scott Adsit, has to do on 30 Rock?